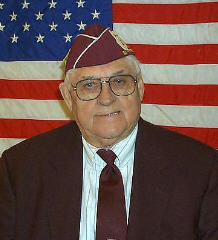 Charles J. Lee, Baton Rouge Nat. Convention 1998
Last Name: `
LEE
First Name Middle Initial:
CHARLES J
Nick Name:

Street: PO BOX 248
City & State: MADISONVILLE, TN
E-Mail:
Zip: 37354
Phone: (423)442-3223
Spouse: JUDITH B
Conflict:
Service Branch: 97 BG
Unit:
Theater: ETO
Where Captured:
Date Captured:
Camps Held In: Camps to come..
How Long Interned: 0 days
liberated / repatriated:
Date Liberated:
Age at Capture:
Medals Received: Medals to come..
Military Job:
Company:
Occupation after War:
Military Bio:

Charles J. Lee, National Junior Commander, Eastern Zone – Actively served AXPOW for many years. IN 1998-99 I have served as National Junior Vice Commander was reelected for 1999-2000. I served in World War II, the 8th Air Force, 96 BG., 337 Sqd. Interned in Luft IV and I for over a year. Life Member The American Prisoners of War since 1976. I have served also as a National Director 3 years; National Chairman of the Publication Committee; Budget and Finance Committee 2 years, Ways and Means Committee 3 years, and have served one year on the following committees: Membership, Investments, Grievance, Suggestions, Andersonville, and Audit Committee. I have received three National Membership Awards. I have also served as Department Commander of Tennessee for 2 years and Chapter Commander 1 year.

I have been a member of the American Legion, DAV and VFW for over fifty years. I am active in civil and community affairs, serving my second term on the Monroe County Commission. I am also a fifty-year Masonic member.


My Message to Future Generations:

I am proud to tell my POW story to civil and youth groups. I will continue to support the goals and objective of the AXPOW organization. I feel that my business experience enables me to work within our organization to take the AXPOW into the next century.
To Edit Bio Click Here
Return to CombatVets.net Home Page
This Site Published CombatVets Network, Division of LovedOnes Inc. (727) 588-0747