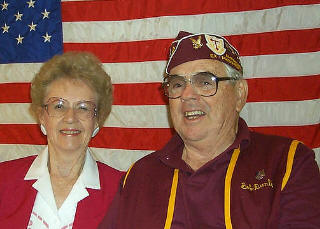 Robert L. and Doris Dunlap, Baton Rouge Nat. Convention 1998
Last Name: `
DUNLAP
First Name Middle Initial:
ROBERT L
Nick Name:

Street: 9034 ST REGIS LN
City & State: PORT RICHEY, FL
E-Mail: dod1@cusave.com
Zip: 34668
Phone:
Spouse: DORIS L
Conflict: WW II
Service Branch: ARMY
Unit: 28 DIV
Theater: ETO
Where Captured: OREN, BELGIUM
Date Captured: 12/17/44
Camps Held In: STALAG IB AND IA
How Long Interned: 105 days
liberated / repatriated: liberated
Date Liberated: 04/45
Age at Capture: 21
Medals Received: PURPLE HEART, ETO MEDAL, WW II VICTORY MEDAL, POW MEDAL, BRONZE STAR, GOOD CONDUCT
Military Job: SGT.
Company: G. M. CORP.
Occupation after War: MECHANIC
Military Bio:

During World War II, Robert L. Dunlap of Port Richey, Florida, served as a
Sergeant in the US Army's 28th Division. At only 21 years of age, Robert
was captured by the Germans in Oren Belguim on December 17, 1944. For the
next four months, Robert survived a series of stunning events at German
camps 1XB, 1XA. Forced to march day and night, Robert and the other
prisoners, became human targets for the German soldiers. In addition to
this, young Germans who saw the prisoners wasted no time in stoning them.
During many days and nights, Robert, was imprisoned in box cars that Allied
planes unknowingly bombed. Despite these traumas, Robert survived and
received many medals including the Purple Heart, the Bronze Medal, the Good
Conduct (medal?) as well as many others. Following the war, Robert worked
for the GM Corporation, building the automobiles we drive today.


My Message to Future Generations:

Message to come..
To Edit Bio Click Here
Return to CombatVets.net Home Page
This Site Published CombatVets Network, Division of LovedOnes Inc. (727) 588-0747