| | | |
| --- | --- | --- |
| | | |
| Retired Sheriff Charles Brown,1980 | Home on leave | Intelligence Officer 1950-1955 |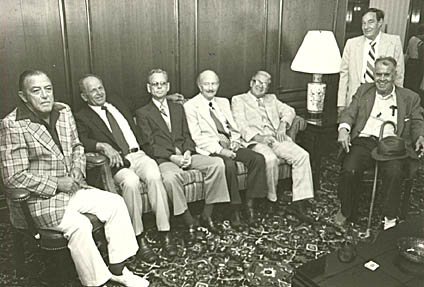 Reunion of
Last Name: `
BROWN
First Name Middle Initial:
S CHARLES
Nick Name:
CHARLES
Street: 554 CENTRAL AVE
City & State: HAMMONTON, NJ
E-Mail:
Zip: 08037
Phone: 609 561-1789
Spouse: Josephine M
Conflict: WWII
Service Branch: Army Air Corp
Unit: 376 Bomb Squadren 15 AF
Theater: ETO
Where Captured: YUGOSLAVIA
Date Captured: 11/24/43
Camps Held In: BULGARIA
How Long Interned: 362 days
liberated / repatriated: liberated
Date Liberated: 11/20/44
Age at Capture: 19
Medals Received: Air Medal, POW, Purple Heart,WW11 Victor Medal
Military Job: GUNNER
Company: UNITED STATES AIR FORCE
Occupation after War: INTELLIGENCE OFFICER
Military Bio:

Charles Brown was captured in Yugoslavia and was sent on a 5 hour march were he would spend the next 13 months in a camp in Bulgaria. The Bulgarians executed two of his crew members while they were there. Mr. Brown was liberated in 1944 but was called back to service on October 1950 and was sent to duty in the Korean Conflict until 1955. Charles stayed in the U. S. Air Force until he was Honorably Discharged as a Intellegence Officer, he later went on to work with the local sheriff's Office until he retired in 1980.

He now resides in Hammonton, NJ with his wife Josephine that he married on June 10th, 1945. He also a son, Gary Charles Brown.

Crew members pictured above at the reunion of The Witch, the first POWs in Bulgaria are Joe Turley-PA, Tony Rauta-IL, Dale Hulsey-TX, J.T. Darlington (Pilot)- TN, Roland Gilletta-TX, Ned Howard-AR, Sylvester Brown-NJ, Joe Quigley (not pictured, but did attend the reunion).
My Message to Future Generations:


To Edit Bio Click Here
Return to CombatVets.net Home Page
This Site Published CombatVets Network, Division of LovedOnes Inc. (727) 588-0747