Pfc. Edward Slater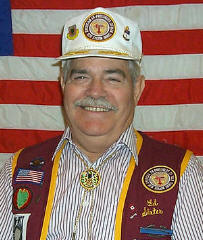 Edward N. Slater at the Baton Rouge Nat. Convention 1998.
Last Name: `
SLATER
First Name Middle Initial:
EDWARD N
Nick Name:

Street: 109 HOLDER RD
City & State: INDEPENDENCE, MO
E-Mail: Eslaate@Swbell.net
Zip: 64050
Phone:
Spouse: PHYLLIS
Conflict: KOREA
Service Branch: ARMY
Unit: 24 INF DIV I CO 21 REG.
Theater: ETO
Where Captured: KOREA
Date Captured: 06/19/50
Camps Held In: DEATH MARCH, SUNCHON MASALRI
How Long Interned: 124 days
liberated / repatriated: liberated
Date Liberated: 10/21/50
Age at Capture: 18
Medals Received: PURPLE HEART W/CLUSTER, POW MEDAL, ASIATIC PCIFIC MEDAL, U.N. MEDAL, NATIONAL DEFENSE MEDAL, OCCUPATION GER. - KOREA, JAPAN MEDAL, KOREAN CAMPAIGN MEDAL, KOREAN PRESANTATION PRESADENTIAL AWARD, AMBASSADOR TO PEACE MEDAL
Military Job: PFC, RIFLEMAN
Company:
Occupation after War: SALES
Military Bio:

Edward N. Slater of Independence, Missouri was in the 24th Infantry Division when he was captured on June 19th, 1950 in Korea. At the age of 18 Edward served 4 months on a death march before being rescued on October 21st, 1950. Edward received many awards and medals for his bravery, including the Purple Heart with Cluster, the U.N. Medal, the Ambassador to Peace Medal, and many others.
After the war Edward went into sales and retired with his spouse Phyllis, 2 children, 6 grand children, and 2 great grand children. Edward, the Missouri Department Commander and a National Service Officer for the EX-POW's spends 3 days a week of his time at the Kansas City, MO. V.A. Hospital lending his support to Those Who Cannot Help Themselves.

My Message to Future Generations:

Message to come..
To Edit Bio Click Here
Return to CombatVets.net Home Page
This Site Published CombatVets Network, Division of LovedOnes Inc. (727) 588-0747