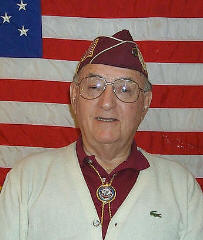 Nicholas Hionedes, Baton Rouge Nat. Convention 1998
Last Name: `
HIONEDES
First Name Middle Initial:
NICHOLAS
Nick Name:
'HICK'
Street: 1147 KING ARTHR CT #216
City & State: DUNEDIN, FL
E-Mail:
Zip: 34698
Phone: (727) 733-7902
Spouse: ANN M
Conflict: WW II
Service Branch: Army Air Corp
Unit: 1 SIG CO A/C WARNING
Theater: ETO
Where Captured: CORREGIDOR
Date Captured: 05/05/42
Camps Held In: CABANATUAN, HITACHI
How Long Interned: 1215 days
liberated / repatriated: Repatriated
Date Liberated: 09/45
Age at Capture: 21
Medals Received: BRONZE STAR MEDAL, PURPLE HEART MEDAL, GOOD CONDUCT MEDAL, POW MEDAL, PESEDENTIAL UNIT CITATION MEDAL W/2 OAK LEAFS, PHILLIPINE DEFENSE MEDAL, PHILLIPINE VICTORY MEDAL
Military Job: CORPORAL
Company: GULF LIFE INS. CO.
Occupation after War: INSURANCE SALES
Military Bio:

Nicholas Hionedes of Dunedin, FL was a Corporal with the Air Warning Unit in the Army Air Force when he was captured on May 5th, 1942. At the age of 21 Mr. Hionedes spent 40 months in camps Cabanatuan and Hitachi before being repatriated on September of 1945.
Mr. Hionedes was wounded on April 16th, 1942 on Corregidor, P.I. From there he was taken prisoner while he was a patient in Malinta Tunnel Hospital. After the war Mr. Hionede's main occupation was Insurance Sales and he spent most of his career at Gulf Life Ins. Co. American General and with his wife Ann. Mr. Hionedes also received many awards and medals including the Bronze Star, the Purple Heart, the Good Conduct award, the POW Medal, the Presidential Citation with 2 Oak Leaves, the Philippine Defense, and the Philippine Victory Medal.
My Message to Future Generations:

Message to come..
To Edit Bio Click Here
Return to CombatVets.net Home Page
This Site Published CombatVets Network, Division of LovedOnes Inc. (727) 588-0747