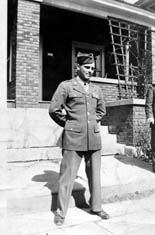 Pfc. Angelo Mariglio Home On Leave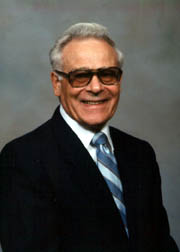 Angelo J. Mariglio 1924-1999
Last Name: `
MARIGLIO
First Name Middle Initial:
ANGELO
Nick Name:
'SONNY'
Street: 920 VANDERBILT AVE
City & State: NIAGARA FALLS, NY
E-Mail:
Zip: 14305
Phone:
Spouse: FRANCES A
Conflict: WW II
Service Branch: ARMY
Unit: 358 INF REG 90 DIV
Theater: ETO
Where Captured: NORMANDY
Date Captured: 07/23/44
Camps Held In: STALAG IVB, STALAG IVF, AND STALAG XIIA
How Long Interned: 287 days
liberated / repatriated: liberated
Date Liberated: 05/06/45
Age at Capture: 19
Medals Received: EUROPEAN AFRICIAN MIDDLE EASTERN RIBBON W/ 2 BATTLE STARS, WW II VICTORY MEDAL AMERICAN THEATER RIBBON, MEDAL OF HONORABLE SERVICE WHILE A POW, AND A MEDAL FOR CONSPICIOUS SERVICE BY THE GOVERNOR FOR THE LEGISLATIVE OF THE STATE OF NEW YORK
Military Job: PFC, RIFLEMAN
Company: NIAGARA SCHOOL SYSTEM
Occupation after War: TEACHER
Military Bio:

Angelo J. (Sonny) Mariglio born 12/1/24 in Niagara Falls, NY, died March 4, 1999. Enlisted 9/1/43 at Camp Upton, NY. Army Infantry F358th Reg. 90th Division/WWII Normandy shortly after the breakthrough at St. Lo.

Taken to Amiens through Chartres. Reboarded to Leinburg Stag XIIA. Next via the infamous boxcars to Stalag IVB and IVF August 1944. Sent to work hauling trees from the mountains to lumber mills at Mulda near Chzekoslovakian border – Arbeit Camp.

Early April 1945 before sunrise we were ordered from our sleeping quarters and packed into a truck under heavy guard. An American fighter plane spotted us and banked to descend. We were ordered to stay on the truck but a few of us jumped off. The truck was in flames. The guards gained control and marched us towards Breslau. Finding out that the Russians were also marching toward Breslau, they forced us to march back to where we were, 60 miles. We were all suffering from malnutrition, blisters, cuts, leg pains due to poor treatment as well as the indignities from the civilians who jeered and threw stones at us. Many had to be helped or dragged the last 10 miles.

Liberated by the Russians May 6, 1945. We took off for Chernitz May 7, 1945 then to Camp Lucky Strike in France. June 15, 1945 got back to the States at Lake Placid for recuperation. Next to Camp Joseph T. Robinson in Arkansas where I trained raw recruits N.C.O. Discharged December 4, 1945.

Awards and Medals: (1) European African Middle Eastern Ribbon w/2 Battle Stars; (2) World War II Victory Medal American Theatre Ribbon; (3) Medal of Honorable Service while a Prisoner of War; (4) Medal for Conspicuous Service by the Governor for the Legislature of the State of New York.

Graduated from Niagara University in 1949 – Master's degree in 1960. Taught in the Niagara Falls school system for 31 years, retiring in June 1984. Hobbies: reading, bowling, gardening, traveling and enjoyed all sports.

Married Frances Borelli, August 7, 1946. Had five daughters and seven grandchildren. I read Tom Brokaw's book and I agree when he said that we soldiers of WWII were "The greatest generation any society had ever produced."

Submitted by his wife of 52-1/2 years, Frances A. Mariglio.

My Message to Future Generations:

Message to come..
To Edit Bio Click Here
Return to CombatVets.net Home Page
This Site Published CombatVets Network, Division of LovedOnes Inc. (727) 588-0747