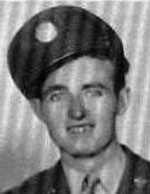 Gerald Duval Air Gunner radio operater -S/Sgt-1943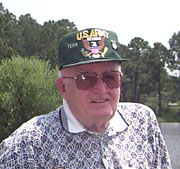 Gerald Duval 1999....US ARMY Retired
Last Name: `
DUVAL
First Name Middle Initial:
GERALD
Nick Name:
'JERRY'
Street: 10510 Front Beach Road
City & State: PANAMA CITY BEACH, FL
E-Mail: xra1@bellsouth.net
Zip: 32407
Phone: 1-850-234-6762
Spouse: THELMA J.
Conflict: WW II
Service Branch: Army Air Corp
Unit: 459 BG 759 BS 15 AF
Theater:
Where Captured: AUSTRIA
Date Captured: 04/02/44
Camps Held In: LUFT 1 AND LABOR CAMPS laid in the first labor camp without medical aid ..except for a limp body cast. No Red Cross.. food or medicine were supplied. The Camp was near a Battery of Flak Guns. This was not in accordance with the Geneva Convention.
How Long Interned: 421 days
liberated / repatriated: liberated
Date Liberated: 05/28/45
Age at Capture: 20
Medals Received: PURPLE HEART MEDAL, Air Medal PRESIDENTIAL UNIT CITATION and PRISONER OF WAR MEDAL OF VALOR AND OTHERS.
Military Job: RADIO OPERATOR AND GUNNER
Company: STUDENT-RETURNED US ARMY...UNDER COMBAT DISABILITY WAIVER
Occupation after War: RETIRED..FROM ARMY.WORKED AS POLICE ID TECH...DIST MGR RADIO SHACK..OWNED PRIVATE INV AGENCY.
Military Bio:

My book Wings and Barbed Wire by Gerald Duval can be found at its Home site... www.1stbooks.com It is in both EBOOK format and in print. It can also be found on www.amazon.com....www.barnesandnoble.com...www.walmart.com...amd on many overseas book seller websites.
Most bookseller websites and stores have it.
My Message to Future Generations:

God Bless America and our Service People in Harms Way. Take up the Sword we have passed on to you!
To Edit Bio Click Here
Return to CombatVets.net Home Page
This Site Published CombatVets Network, Division of LovedOnes Inc. (727) 588-0747